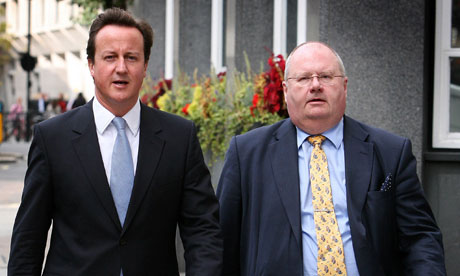 Written by Nico Heslop, Pickles's private secretary, at the clear instigation of the minister, the letter lays bare fears of mass homelessness "disproportionately impacting on families". It says:
40,000 families will be made homeless by the welfare reforms, putting further strain on services already "seeing increased pressures".
An estimated £270m saving from the benefits cap will be wiped out by the need to divert resources to help the newly homeless and is likely to "generate a net cost".
Half of the 56,000 affordable homes the government expects to be constructed by 2015 will not be built because developers will realise they will not be able to recoup even 80% of market rates from tenants.
The leak is the first time that disagreements over welfare cuts have surfaced within the Tory high command.
"It is not yet clear to what extent they would be affected by the overall benefit cap."
The bill has since passed to the Lords, although the revelations will only fuel existing concerns among Liberal Democrat and Labour peers.
"With 21% of people struggling to meet housing costs, it's naive to think you can cut support without putting some people at risk of losing their home. The coalition government should stop bulldozing through badly thought-through policies while ignoring independent evidence, its own expert panel and the views of those who will deal with the very real impact on people."
Enver Solomon, policy director at the
Children
's Society, said:
"The social costs of the cap are huge and would have disastrous consequences for many children."
The leaking of the letter will be a source of considerable embarrassment to the government. It was sent by Heslop to Cameron's private secretary, Matthew Style – the normal channel of communication used by cabinet ministers for formal matters of policy.
Over two pages, the fears of the Department for Communities and Local Government (DCLG) are spelled out over "some very serious practical issues for DCLG priorities".
It adds: "We are concerned that the savings from this measure, currently estimated at £270m [per year] from 2014-2015, does not
take account of the additional costs to local authorities (through homelessness and temporary accommodation). In fact we think it is likely that the policy as it stands will generate a net cost."
The letter then claims that with the reduction in the benefit families can claim, developers will not be able to recoup anything close to a market rent and so will not have an incentive to build homes. "Initial analysis suggests that of the 56,000 new affordable rent units up to 23,000 could be lost," the letter says. "And reductions would disproprortionately affect family homes rather than small flats."
"We are fully supportive of all the government's policies on benefits. Clearly action is needed to tackle the housing benefit bill which has spiralled to £21bn a year under Labour."
courtesy of Observer